Are Addiction and Dependence the Same Thing?
People often use the terms "addiction" and "dependence" interchangeably when talking about substance abuse. In reality, the terms refer to two different sides of the same coin.
Someone who is addicted to a substance may or may not have a physical dependence on that substance. Having a physical dependence on a substance does not necessitate being addicted to that substance, but can often signify that addiction is "right around the corner".
As we will explain in this article, there are subtle yet important differences between addiction and dependence. These differences affect whether a person develops a substance use disorder, as well as how patients with substance use disorders are treated.
Read on to discover more about the difference between addiction and dependence, and what these differences mean for a loved one with a substance use disorder.
What is Addiction?
"Addiction" is a widely-used term, but it does not refer to an official diagnosis. When people refer to addiction, they are typically talking about a severe form of a substance use disorder, which is an official diagnosis from the DSM-V manual. This manual helps mental healthcare professionals diagnose mental illness.
In the DSM-V, substance use disorders encompass addictions to ten classes of substances, ranging from tobacco to alcohol, to cocaine, to hallucinogens. Gambling disorder, an addiction to gambling, is also grouped with substance use disorders in this manual. Each addiction is defined differently based on the effects of the specific substance, but they do have a few symptoms in common, including:
Using more of the substance or using the substance over a longer period than was initially intended.
Persistently desiring or making unsuccessful efforts to cut down or control the use of the substance.
Craving the substance, or experiencing a strong desire or urge to use the substance.
Building tolerance, or the need for increased amounts of the substance over time to achieve the desired effect. This also results in decreased effects of the substance with continued use of the same amount.
These symptoms must also have a negative effect on a person's life. For example, the substance use may interfere with their responsibilities at work or school, or drive a wedge in the person's relationship, whether familial, romantic, or otherwise.
Addiction and Neurotransmitters
The reputation of an "addict" bears a negative connotation. Many people blame people with substance use disorders for their problems, believing that they are lazy or weak-willed. However, addiction is a mental illness that actually alters brain chemistry.
According to the National Institute on Drug Abuse, substances like alcohol or marijuana alter the way neurons — the nerve cells in our brain — send, receive, and process messages via hormones called neurotransmitters. Substances can mimic the brain's naturally produced neurotransmitters, but don't work in exactly the same way.
As a result, substance use results in abnormal messages being sent to the brain. The various ways in which substances affect our brain chemistry produce the physical effects of different drugs. Sometimes, these effects can be life-threatening — for example, some drugs like opioids affect the brain stem, which controls basic functions like heart rate and breathing. If too much of these substances are consumed, a person can die from slowed heart rate and impaired breathing.
Addiction and the Reward System
You can see how substance use becomes so dangerous, which might make you wonder why an addicted person keeps seeking out the substance even though it could threaten their life. The answer also lies in brain chemistry.
When we experience something pleasurable, our brain produces a chemical called dopamine as part of the reward system. Substances produce large surges of dopamine, resulting in the "high" experienced by users.
Because these extreme dopamine highs cannot be replicated by other experiences, users can begin to obsessively seek out the substance at the expense of other healthier activities. This response is what we think of as addiction. In other words, our brain becomes addicted not to the substance itself, but to the release of dopamine it triggers.
Commonly Abused Substances
The term "addiction" has made its way into our everyday vernacular. Friends might say they are "addicted" to a particular TV show or "addicted" to an unhealthy snack. However, even the most obsessive of these experiences — pleasurable as they can be — does not produce the negative effects of true addiction. This is because TV and snacks do not have the same power to trigger big surges of dopamine, or "highs," that commonly abused substances do.
So, what types of substances have the power to trigger the dopamine reward system in the brain? The National Institutes on Drug Abuse lists some of the substances most responsible for producing substance use disorders or addictions on its website. These substances include:
An estimated 15 million people in the United States have alcohol use disorder. Alcohol use is widely accepted in society, making this drug easy to access for those who are addicted to it.
Found in cigarettes and vaping devices, tobacco contains nicotine, an addictive chemical. Cigarette use has decreased by half since the 1960s but remains problematic, especially because it disproportionately affects poor people, who are often likely to be people of color.
Marijuana, or "pot," use is becoming more widely accepted, with many states legalizing the drug and regulating it as we do alcohol. Many people wrongfully assume that marijuana is not addictive, but it contains the chemical THC, which can lead to dependence.
In 2014, over 900,000 people met the criteria for cocaine use disorder. Young adults ages 18 to 25 are most likely to abuse cocaine.
Opioids include prescription painkillers like codeine, fentanyl, oxycodone, and morphine, as well as the street drug heroin. Prescription opioids are often viewed as a gateway drug to heroin, which is derived from morphine.
Hallucinogens cause disturbances in a person's perception of reality, including hallucinations. These drugs include PCP, LSD, ketamine, and peyote.
Prescription drugs. People often abuse prescription depressants like benzodiazepines (anti-anxiety medications) and prescription stimulants like amphetamine (ADHD medications). College students may especially abuse amphetamine as a "study drug."
Anabolic steroids. Young men, especially athletes, may abuse anabolic steroids like synthetic testosterone to build muscle and enhance sexual performance.
What is Dependence?
Despite the fact that it is often used interchangeably with the word "addiction," dependence is a medical condition that can occur with or without a co-occurring addiction. This distinction is important because non-addictive substances — like prescription drugs taken for medical conditions — can also cause dependence.
When patients stop taking prescription drugs like anti-depressants or prednisone (used to treat allergic and inflammatory conditions), they may experience symptoms of withdrawal, indicating that dependence has formed. These symptoms can include headaches, pain, and fatigue. As a result, doctors taking their patients off certain drugs may taper the dosage over time, rather than asking patients to quit cold turkey. For example, their doctor may start them at a dose of 20 mg, then gradually go down to 15 mg, followed by 10 mg, followed by 5 mg, before stopping the drug altogether. This process can take days to weeks but is safer and more comfortable for the patient than quitting all at once.
Similarly, patients can develop a dependence on substances they are using, resulting in unpleasant symptoms like sweating, shaking, nausea, anxiety, and insomnia when consumption of the substance is stopped. This withdrawal process often prevents patients from quitting substance use on their own. Even when they want to stop, the experience may be so unpleasant that they feel forced to resume taking the substance.
Dependence, Withdrawal, and Detoxification
Thankfully, dependence on a substance is a medically treatable condition. Symptoms of withdrawal can be minimized by tapering the dosage of the substance over time, much as doctors do with prescription drugs used for medical conditions, to gradually reduce the amount of the substance in the bloodstream. This helps the body better adapt to the changes produced by no longer using the substance.
The process of medical supervision and tapering of substance use during withdrawal is known as detoxification, or "detox" for short. Detox centers are medical facilities skilled at treating dependence. Over a period of weeks, people with substance use disorder can stay at a detox facility as the medical professionals there help them gradually decrease their use of a substance, minimizing withdrawal symptoms. They can also help the person better cope with what symptoms of withdrawal do present themselves during the detoxification process.
It's important to remember that detoxification only treats the physical effects of dependence. Because substance use disorder is a mental illness, mental health cannot be neglected in the treatment of patients with addiction. Detox can help a person safely stop using a substance that is negatively affecting their life, but without understanding the reasons for their addiction and the triggers that lead them to use, a person with addiction may relapse even after detoxification.
The Difference Between Addiction and Dependence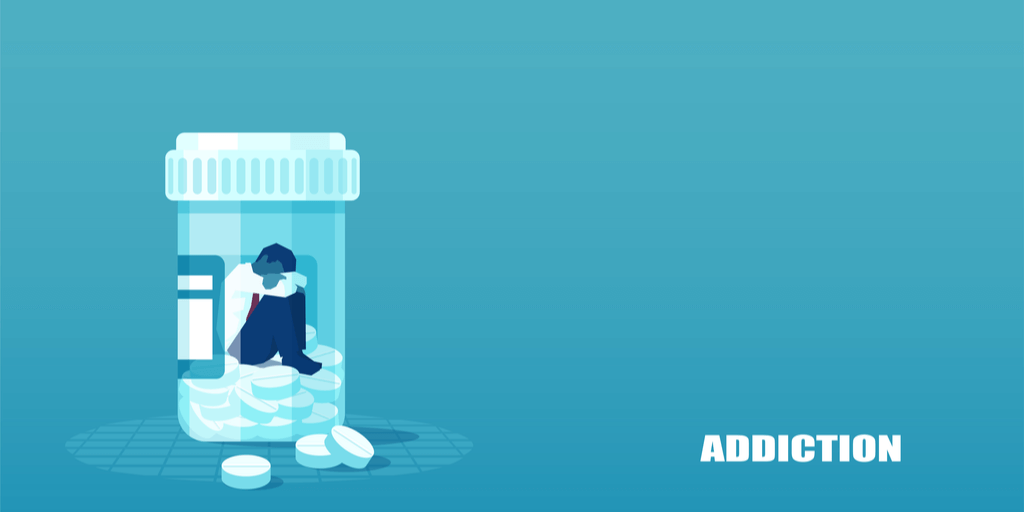 Previously, we talked about the DSM-V manual that mental healthcare professionals use to diagnose mental illness. Old versions of the manual used to break substance use disorders into two categories: abuse and dependence. Abuse described a mild addiction, while dependence described a moderate to a severe one.
Because dependence used to fall under the umbrella of addiction, many people confuse dependence with addiction, despite the differences between the two. Therefore, the DSM-V combined these two categories into one diagnosis, substance use disorder. Whether a person exhibits signs of addiction, dependence, or both, all these symptoms fall under the umbrella term of substance use disorder.
As a result, the terms "addiction" and "dependence" are frequently (but mistakenly) used interchangeably, when there are subtle but important distinctions between the two. These distinctions can be summarized simply by stating that addiction refers to a mental health condition, while dependence refers to a physical health condition.
Namely, dependence refers to physical changes in the brain that occur from prolonged substance use. Over time, the brain adapts to the effects of the substance by altering its chemistry, which leads to the unpleasant symptoms of withdrawal experienced when the person stops using the substance.
Detoxification can help a person quit using a substance while minimizing withdrawal symptoms. However, if the mental component of treatment is neglected, that person may simply resume using the substance the next time they feel down or stressed — especially if their substance use is due to a co-occurring mental illness like anxiety or depression.
Treatment for Addiction vs. Depression
People with substance use disorder should always complete a course of therapy under a mental health professional to minimize the possibility of relapse and understand the reasons for their addiction. If you suspect you or someone you love is suffering from addiction and/or dependence, it's important to know that there are options available. Our trained therapists have years of experience treating substance use disorder and can help you better understand the triggers for your substance use and how to minimize the risk of relapse. As for physical dependence, we are happy to refer patients to detoxification centers or addiction treatment facilities in the community if they need round-the-clock supportive care during the withdrawal process.